TWICKENHAM RIVERSIDE: OUTLINE PROPOSAL FOR MAYOR'S 100 OPEN SPACES

Prepared for Royal Institute of British Architects
Richmond, Kingston and Merton Branch
By James Deasley, April 2005

The long-term development of the old pool site at Twickenham has been brought closer by the Council's demolition of the swimming pool building, and a temporary landscaping scheme. The local branch of the RIBA has proposed that this long-term development should primarily comprise a public open space, with uses focussing on its unique riverside location. The plan demonstrates how traffic could be removed, play areas and cafes provided, with safe access to the river and the re-introduction of boat hire.

A limited enabling development would be necessary to finance the road and river-bank alterations, and in this plan the development is set on a raised terrace, below which are workshops and boat-sheds, in the style of those at Richmond.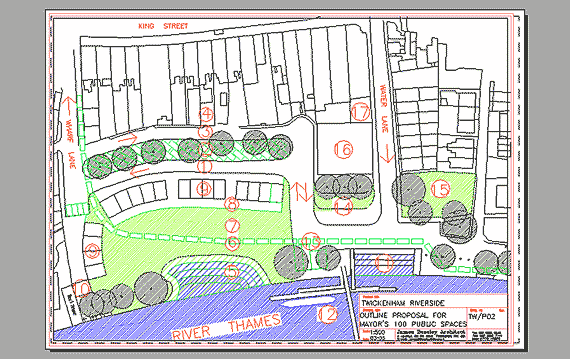 KEY TO THE PLAN
Road diverted away from embankment
Car parking relocated away from tidal flooding, under existing hornbeams and closer to shops.
Existing service road up-graded for public use.
Existing shops would be encouraged to open rear entrances to car park (like M+S opposite)
Embankment cut back to form gentle steps, for safe duck-feeding and study of river fauna.
Thames River Walk and cycle path, running along towpath from Richmond.
Grassed area for informal sport and picnics.
Raised terrace above workshops and boat sheds.
Enabling development, shown as a mix of town houses and flats, total number to be the minimum to finance the project.
Café and children's play area, moved from temporary location.
Existing steps modified to enable boat launching and hire.
Pontoons for cruise boats, private craft and boat hire.
Loading bay for Eel Pie Island industries and residents.
Landscaped viewing terrace overlooking boating activity.
Existing grassy picnic area.
Private car park could be developed as restaurant with terrace.
Shopping frontage could be extended from Church Street down Water Lane.

Design copyright © James Deasley, 2005
---